Graphic Design Services CD MANUFACTURING, CD DUPLICATION

Making a good first impression is always important, and it's absolutely no different for your CD project.

Long before anyone actually plays your CD, the quality of your entire project has already been judged based on the design as well as the CD packaging. Due to that, well-designed and professional looking disc and CD packaging is very important.

If you need assistance with graphic design for your disc and CD packaging the professionals at CDwest.ca can help you!

Standard Design Services

In a lot of instances our clients already know what they want their disc and packaging graphics to look like, but they don't have the ability or experience to create the design to commercial printing standards. Our answer to that is: Send us your design idea, images, graphics, text and we take it from there. Proofs are provided for your review so we can make sure you're happy with the work that's taking place.

► Download the CDwest.ca Pricing Guide [PDF file]

Content Creation

Sometimes clients don't have suitable imagery or copy for their discs and CD packaging, but at CDwest.ca we can help you with content creation and copy writing as well so please contact us to discuss your specific needs.

Concept & Design Services

If you don't know what you want your disc and CD packaging graphics to look like we can still help you. Our designers can consult with you and then the vision for the graphic design can be decided upon collaboratively with you. Please contact us to discuss your specific needs.
Happy Graphic Design Clients
It's always nice to be given a compliment on our work - we try hard to please! Here are a few recent comments from clients who came to us for graphic design on their discs and CD packaging.
► "Just a note to thank you very much for the great job you did on the
discs and sleeves! I am more than pleased with all your work!"
- Robert K.
► "Wowee! You're a damn genius! I love, love, love it!" - Troy K.
► "I really appreciate the great job you have done." - Rick V.
► "Everything looks good. It's a go on all fronts... Great job." - Bill W.
► "We are good to go - looks fantastic!" - Norine B.
Recent Graphic Design Example
Graphic Design Requirements: Concept and Design
CD Packaging: Standard CD Jewel Case
Disc Specs: Short-run CDR duplication with colour inkjet print
Paper Print Specs: 2 panel (4 page) insert + traycard, 4/4 print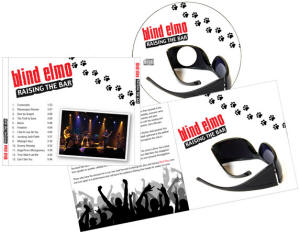 For this project the only design assets the client had were some low-resolution photographs of the band members, some biography text and thank-you notes. Looking for inspiration, our designer decided to pay homage to the band's mascot (a blind dog named "Elmo" which is owned by one of the band-members) by incorporating dark sunglasses and paw-prints. The design was kept bright with an uncluttered look to parallel the upbeat style of music - classic black, white, red and grey colours to provide a cool and stylish look.
► Client reaction to the design: "We think your artwork is FABULOUS. Better than we hoped for!" - Robert R.